Bài đăng trên báo điện tử Việt Nam News ngày 18/6/2017. Xem chi tiết bài viết tại đây.
Pick your poison: Rudicaf's app allows members to book dates with other members, but doesn't allow users to chat or offer gifts online. Photo courtesy of Rudicaf


Tired of Tinder? A new app in Viet Nam looks to attract the more discerning dater, putting users through a strict vetting process before matching them with potential suitors. Thiên Hương looks into the new service.
Rudicaf ("rủ đi cà phê" in Vietnamese, roughly translated into English as "invite someone to have coffee together") is a new dating service in Việt Nam. Yet unlike other services, which mostly aim to make profits, Rudicaf has higher criteria for selecting its customers. "We cater to single people, we don't accept customers who are married. Their profiles are examined carefully before customers are allowed to be members. We don't facilitate extra-marital relationships. Besides this rule, customers must have a steady income of at least 12 million VNĐ (530 USD) per month for men and VNĐ 8 million VNĐ for women." said Vũ Nguyệt Ánh, CEO of the company.

Established in November 2016, the company has already drawn a membership of 200 Vietnamese people, 42 per cent of whom are graduate students from developed countries, 27 per cent are graduates from top universities in Việt Nam, and 18 per cent are people who have taken up important posts in companies and groups. According to the company's figures, female customers are of 22-30 ages while male are of 24-45.
Customers must first submit their CV and show proof of income. They are invited for a face-to-face interview to make sure that their profiles are genuine, and they are well-mannered. Further, if the customers are qualified, they can pay the fee package they choose, before being given accounts on a mobile app and passwords to be able to book a date with the members they are interested in. The packages are ranged from 500 USD to 1,000 USD per year. The mobile app does not allow users to chat or offer gifts online; it only facilitates members to book a date with other members they like.
"Many men that women dream of, such as those with high-paid jobs, good education, and having cars and houses, are hardly interested in finding lovers, as they are busy pursuing hobbies like golf or traveling and have no time to attend to their lovers," Ánh said. "However, sometimes they need someone to talk to and accompany them for dinners. Following their dates, they return to their happy independent lives and hobbies," the CEO added. "Though we try to select our members carefully, there might be some risks," she said. "So, we encourage members to meet face to face to understand the people they date. We want to change gradually people's conservative mindset about dating; many think only those who cannot find partners go for dating services or that dating is just to find a husband or a wife."
The company offers many other services to connect people to help them broaden their social relationships at work, consultancy to resolve problems in relationships, besides consultancy and help to present gifts on anniversaries, and organising events for couples.
Ánh had started the service earlier in 2010, when there were around 10 companies working in the same field. She had to give it up a year later, as she was burdened with a huge loan. She then had to work as an employee for other companies to pay the debt, before she decided to restart the company. "At that time, there were various kinds of dating services operating in the country, but the society still lacked a suitable one. The ones that existed were not appropriate," she said, while recalling why she decided to set up a high-profile dating service company. "I know that many companies with the same services have met with similar obstacles," she said. "I think I should be patient and pursue my passion with a kind heart to avoid being lured by profits, involving my company in social evil (extra-marital relationships). "The most challenging thing is to change the people's perception," she added. "After operating for six months, we do not dare announce that we are successful, but we can confirm that we have created a certain prestige. It brings both pride and pressure to develop sustainably while sticking to our values." she said.
Phạm Anh Đức, CEO of Vicare.vn, commented that the app was alluring. "It's suitable for people like me who have to put in a lot of time into work and consequently, have no time for dating," he said.
Võ Phương Thảo, a marketing manager of Paradise Vietnam Group, said it's the first time she had found a suitable app having members with high profiles. "I think dating is becoming more and more difficult in society. The app will help me save time and find interesting people to make friends with, some of whom could be my lover in the future," said Phạm Quang Huy, a Shaper at Global Shapers.
However, according to Nguyễn Thanh An, an office clerk with low salary, the fee is too high."I cannot afford the membership fee," she said. "Also, I find the profile requirements to be too strict. I think the service caters to only a limited number of customers, not for the majority of young people. "If the profiles are genuine, then the members are those whom anyone would dream of dating," she said, admitting the service had high-profile members.
The company was ranked fourth among the most favourite 20 starts up in the country, while Ánh won a prize in the Female Start-Up category in the same contest, entitled Khát Vọng Tiên Phong (Desire to be Pioneers), hosted by the Vietnam Television and the Ministry of Science and Technology in 2016. — VNS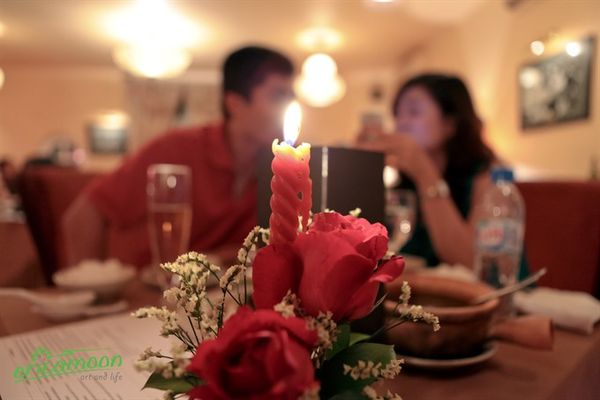 Stupid cupid: Dating may have just got easier.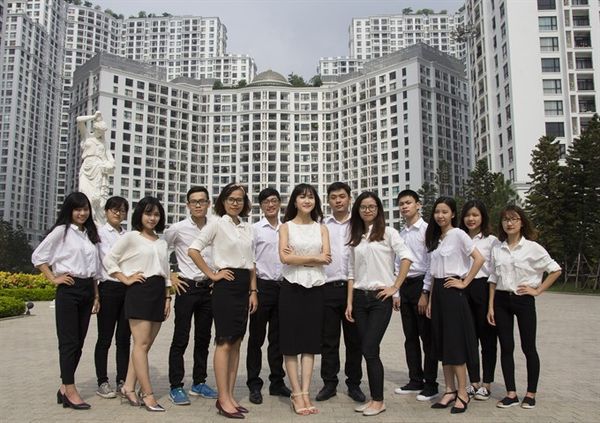 Meet your match: The Rudicaf team.